Dr. Donald Wegener
Chiropractor Dr. Wegener is a native of St. Louis, Missouri and he attended the University of Missouri-Columbia at which time he was accepted to Logan College of Chiropractic in St. Louis. He received a Bachelor of Science degree in human anatomy from Logan University and went on to receive his Doctorate degree from Logan University in 1982 as a D.C. He has done extensive postgraduate study in chiropractic orthopedics and chiropractic neurology. He is a diplomat of the National Board of Chiropractic examiners as well as the State of Tennessee's first diplomat of the American Board of Chiropractic Orthopedist. He received his diplomat status in 1992. He was the first Chiropractic Orthopedist in the state, there are currently two. He was granted the title of Fellow of the Academy of Chiropractic Orthopedist in 1995 and is the only Fellow in the State of Tennessee. He currently is board eligible by the American Board of Chiropractic Neurology and he completed his curriculum of study in neurology in 1996 with further study in 2004.
He is a member of the American Chiropractic Association and within that association is a member of the Council on diagnostic imaging as well as the Council on chiropractic orthopedics. He is a member of the Tennessee Chiropractic Association and a past president of that association serving his presidency in 1995 and 1996. He has been the chairman of the insurance Council for the Tennessee Chiropractic Association from 1993 through 2007 and is currently serving as a member of the insurance council for the state Association. He continues to work for several insurance carriers in the field of malpractice defense work serving as an expert witness.
He is currently a consultant and has worked extensively with Blue Cross/Blue Shield of Tennessee. In 2000, he wrote the utilization management guidelines for chiropractic and osteopathic manipulative medicine for Blue Cross/Blue Shield of Tennessee. He has written the utilization management guidelines for Manipulation under Anesthesia for Blue Cross/Blue Shield of Tennessee. He has served on many peer-review panels for various insurance carriers across the State of Tennessee. He was instrumental in writing the peer-review document for the Tennessee Chiropractic Association. He currently serves on the panel of peer-review for medical management for Blue Cross/Blue Shield of Tennessee representing all of manipulative medicine across the state. He also consults for Cariten Healthcare here in the east Tennessee area and has written the utilization management guidelines for Cariten in 2003.
He was honored as the Tennessee Chiropractic Association's chiropractor of the year in 1996. He was also awarded The James R. Cole Heritage Award in 2012 from the Tennessee Chiropractic Association. His hobbies include golfing, water skiing and bicycle riding as well as fitness training and spending time with his family doing various outdoor activities. He and his wife Cindy had two children, Travis and Tracy. Travis was tragically taken from us in 2014 helping a family from church. He was the owner of Champion Lawn and Landscaping at the time of his death. Tracy is married to Sean and they have 2 beautiful girls, Kennedi and Keelyn, who the doctor loves to spoil!


Cindy Wegener BS, CTA-Retired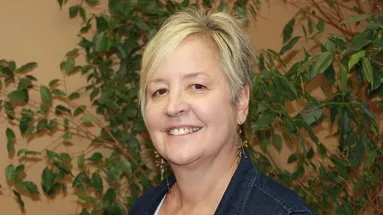 Cindy Wegener attended and received her degree from the University of Missouri at Columbia in Child and Family Development with a minor in Nutrition. In addition to doing various office management duties she consults our diet clients and educates patients on proper nutrition and exercise procedures. She was also certified as a Chiropractic Therapy Assistant and she attempts to keep our doctor in line both at home and in the office. Her hobbies include collecting Longaberger baskets, consulting for Stamping up and Creative Memories scrap booking. She also enjoys spending time with her daughter, son-in-law Sean and 2 granddaughters, Kennedi and Keelyn and her dog.


Tabitha Hovater BS, CTA
Tabitha Hovater is a native of Fall River, Massachusetts, and moved to Jacksonville, Florida when she was a child. She attended Warner Southern University in Florida on an athletic scholarship and graduated with a Bachelors of Science degree in Exercise Physiology with a minor in Biology. She moved to Tennessee after graduation to work with high school students through a local church. During her time here she became really interested in Chiropractic and natural healing and has been actively working in the Chiropractic field for the past 12 years. She is a Licensed Chiropractic Therapy Assistant, and truly loves to serve people, and see their lives changed without drugs or surgery through chiropractic care.
Tabitha manages the office and handles your insurance coverage and billing concerns. She would be happy to help you in any way she can.
Carrie Crane LMT, CTA
Carrie is a native of Dryden, NY. She moved to Knoxville in 2004 when she attended Tennessee School of Massage. She has been practicing massage and working as a Chiropractic Therapy Assistant since 2005. She has a passion to help alleviate patient's pain without the use of drugs and surgery when possible.
Carrie resides in Powell with her husband Frank and their son Mason. When she is not at work you can find her on the football field or wrestling mat cheering her son on!
Anna Scholz CTA, PT, LMT
Anna is a Physical Therapist and a Massage Therapist from a little island called Wolin, Poland. She is working towards credentialing her PT diploma in the US. In the meantime she became a Chiropractic Therapy Assistant and is able to practice her favorite therapies, like Deep Tissue Massage, Trigger Point Therapy and Fascial Distortion Model Therapy.
Anna enjoys singing with the Oak Ridge Chorus and is a Volunteer at the Oak Ridge Public Library. She loves spending time outdoors doing trail running, hiking and white water kayaking with her husband. Her husband and the hot Tennessee climate are the two reasons she is still here.
Kendall Braden
Kendall is a native of East Tennessee and has been a Powell resident for 2 years. She has been married to her husband Chandler for 2 years. They have a daughter, Eleanor and a German Shepherd, Axl Rose. She enjoys hanging out with her family and adventures to new places.